Congratulations to Nash P. for winning the Spelling Bee! Top 5 students that are moving on to the county bee next month are Randi B., Jaxon C., Shealynn C., Gavin F., and Nash P.

Congratulations to these students for being chosen as Students of the Quarter in grades 7-12!



Does your child need a winter coat? Through the generosity of Coats4Children, United Way of Morrow County, and a Northmor family, we have plenty of coat options in children's sizes 5-18 to give to you for free! Please contact Sarah Creswell at
screswell@knightpride.org
if you want your child to receive a coat!

A group of freshmen, sophomores and juniors earned a field trip to Blue Fusion to celebrate scoring a 4 or a 5 on the Algebra or Geometry State Test last spring! They enjoyed a couple hours or bowling, pizza and arcade games!! Congratulations to all!!!

Northmor FFA Wins State Ag Soils Contest! Jed A. 1st, Lauren J. 2nd, Kylee B. 4th, Riley J. 9th, individually. Heading to the national contest in Oklahoma in May!

The High School student Leader In Me Kickoff event was a huge success! Pictures and Videos>>
http://tiny.cc/tlimKO

Now Hiring Substitute Aides, Substitute Bus Drivers and Substitute Teachers. Please call the Board of Education Office for details, 419-946-8861, option #4.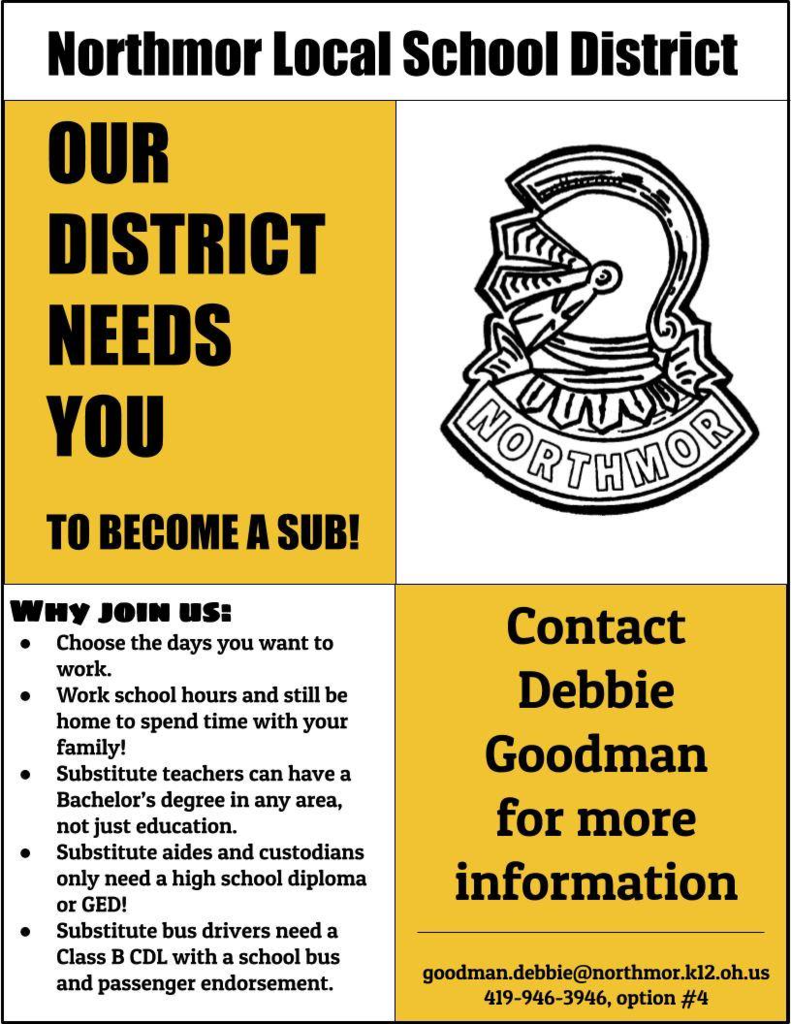 Notice! Text messages from Northmor Schools will now come from the number 98900. No reply is necessary for you to continue to receive text alerts from our notification system. However, if you wish to opt-out of receiving alerts please reply STOP to a text message.

Please continue to screen your student's health before sending them to school each morning and keep them home if they are showing any symptoms below. If you have any questions or concerns, please do not hesitate to call the school nurse at 419-946-3946 People with COVID-19 have a wide range of reported symptoms – from mild symptoms to severe illness. Symptoms may appear 2-14 days after exposure to the virus that causes COVID-19. Symptoms can include Fever or chills Cough Shortness of breath or difficulty breathing Fatigue Muscle or body aches Headache New loss of taste or smell Sore throat Congestion or runny nose Nausea or vomiting Diarrhea This list does not include all possible COVID-19 symptoms. Children and adolescents with the virus that causes COVID-19 may experience any, all, or none of these symptoms.

All students will receive free meals once again this school year. However, in order to waive school fees and for the district to receive federal funds we still need everyone to print out and complete the Free and Reduced Meals form at
https://5il.co/x8at
. Forms will also be available at open house and in the office.

Home Internet Discount Available! The FCC has launched a temporary program to help families and households struggling to afford internet service during the COVID-19 pandemic. The Emergency Broadband Benefit provides a discount of up to $50 per month toward broadband service for eligible households and up to $75 per month for households on qualifying Tribal lands. Eligible households can also receive a one-time discount of up to $100 to purchase a laptop, desktop computer, or tablet from participating providers. Among other eligible statuses, all students who qualify for the Federal Free and Reduced Lunch Program as well as all students in a Community Eligibility Provision school are eligible for the benefit. Eligible households can enroll through a participating broadband provider or directly with the Universal Service Administrative Company (USAC) using an online or mail in application. You can learn more about the benefit, including eligibility and enrollment information, by visiting
www.fcc.gov/broadbandbenefit
, or by calling 833-511-0311. Families seeking assistance can also contact the RemotEDx Connectivity Champions who will guide families through the application process. Connectivity Champions can be reached by phone at 844-512-6446, email at
connectme@ohio-k12.help
or through the web at
https://www.ohio-k12.help/remotedx
.

Northmor's Fiscal Office received the Ohio Auditor of State Award for excellence in financial reporting for the fiscal year 2020! Pictured are Chad Redmon, Superintendent, Melissa Sesco, Assistant Treasurer, Gina Roop-Deppert, Treasurer/CFO and Torri Huebner, Central Region Liaison to the Auditor of the State's office.